Ultraviolet Light Sanitation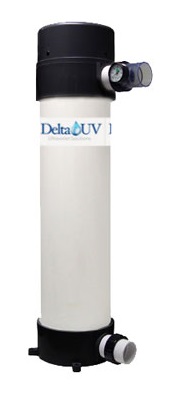 Clean Light by Delta UV is installed onto the pool filtration system and bombards the passing water flow with a high intensity, germicidal UV ray that destroys water-borne pathogens including algae, bacteria, cysts and viruses such as E.Coli, Cryptosporidium, Giardia and many more.
Engineered and designed specifically for residential pool water maintenance, the Delta UV products offer pool owners a truly superior alternative to traditional water treatment as NOTHING is added to the water.
Reduce chemical usage
Eradicate micro-organisms
Reduce the smell of chlorine
Prevent red-eyes, dry skin and damaged hair
UV is a physical process rather than a chemical process- making it a more environmentally friendly choice for water sanitation. There is no residual effect that is harmful to humans, animals, plants or the environment. The result is water that looks, feels and smells better–salt free.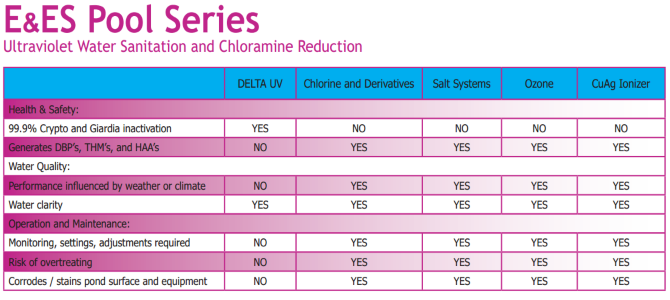 E and ES Series both offer an incomparable and safer pool experience for your family and friends… Silky, smooth, odorless and salt free.
The water circulates through our Delta UV sanitizer that uses the type C ultraviolet rays to completely purify water deactivating all the dangerous micro-organisms resulting in the cleanest and purest water possible for your pool. As small residual of chemicals are used in order to destroy any micro-organism that do not find their way into the UV sanitizer.
DOWNLOAD THE BROCHURE